Community Fish And Game Association
Box 62
Old Zionsville,PA 18068
| About | Watermans Pond | Fishing Contest | Pheasant Stocking | Family Night | Club Calendar |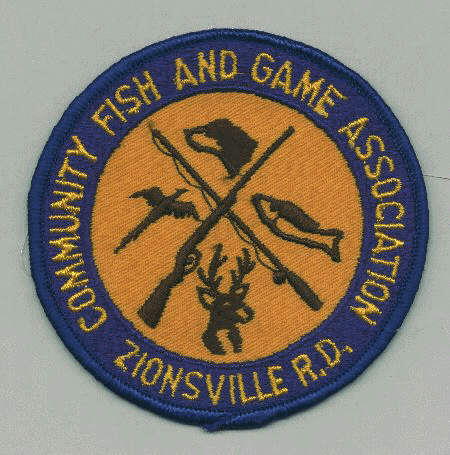 Community Fish and Game Association is a incorporated and non-profit organization. Its purpose is to replenish fish and game in the Old Zionsville area of Eastern Pennsylvania.
Community was incorporated on April 15, 1948, and is one of five rod and gun clubs in the area.
The club is a cooperative nursery for the Pennsylvania Fish and Boat Commission and stocks over 5,000 trout in the local streams every year from their trout nursery for the trout season. The nursery is located next to Waterman's Meat Market just off of Routes 29 & 100 near Hereford, Pa.
The organization also stocks pheasants, quail, and turkeys on local farms every fall for the small game hunting season.
Community sponsors two main functions in apprreciation for its membership. The club runs a family night where the members can win hams, turkeys, ducks, capons, meat trays, and booze. Refreshments and food are served all evening long. The organization also holds a children's fishing contest at our rodeo area near Palm, Pa. where the children can win prizes. After the contest the adults and children can fish until dark. You might think that you must pay a lot for all of this, but the dues are only $10.00 a year.
Currently we are accepting payment for your 2015 year's dues.
If you are not a member and would like to become a member send a check or cash for $10.00 to:
Community Fish And Game Association
Box 62
Old Zionsville, PA 18068


Top
Waterman's
Pond
Waterman's
Pond
Waterman's
Pond
| | |
| --- | --- |
| | This year we stocked over 4,600 trout. We received the new fish on June 17, 2012. We received 5,000 brook trout and 50 Golden trout. Hopefully, we will have a good winter, a low mortality rate, and will start stocking out the fish starting in the Spring until all the fish are stocked out. |


Top
Fishing
Contest
Fishing
Contest
Fishing
Contest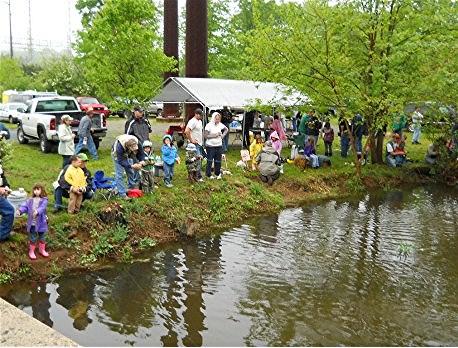 Our 66th. Annual Fishing Contest was held on May 17, 2015, at our contest area by the substation at Hosensack. Children, ages 3 to 14 fished from 11:00 am to 2:00 p.m. Prizes were given to the children by gender and age groups at 2:00 p.m. We stocked 942 fish for the children and after 3:00 for the members. The kids really caught fish with most of them going home with the limit. It was truly an awesome day!
We also would like to thank all the members and friends who got the contest area ready, and who also worked previous fishing contest. With out this help the contest would not have been a success.
Also we must thank Hereford Fire Police, Andy Zgura, Phil Marks, the Eisenharts, Gene Miller, and Sheepy Hollow Farms, and Ronny Montz for their donations, and also a special thanks to Royal Thrown for the donation of the port-a-potties and, Ed and Marci's Hanover Inn for their famous Chili.
Also a special thanks to Hereford Township for allowing us to have the contest at their park on Tollgate Rd. I hope that this partnership will continue in the future.
Next year's contest, our 68th., will be held on May 16, 2016, at 11:00 a.m. We will try to make this year's contest a better one than this pass year's. But we can't do it without your help. So put this date in your book and remember your kids.


Top
Pheasant
Stocking
Pheasant
Stocking
Pheasant
Stocking
On October 18, 2015, we will stock $500 worth of pheasants on the Schantz Farm off of St. Peter Road, and Lehigh County Farm (Seems Seed Farm) located near Vera Cruz. We will meet at Powderbourne Inc. at 7:30 a.m., ate breakfast, and loaded the birds. We will then meet the other members at the Kings Highway School at 9:00 a.m. and stocked the birds. A Special thanks to Rich and Powderbourne Inc. for the good price of the pheasants.

Remember to ask permission to hunt, and I hope you had good luck during the Pennsylvania Small and Big Game Seasons.


Top
FAMILY
NIGHT
FAMILY
NIGHT
FAMILY
NIGHT
| | |
| --- | --- |
| | Family Night will be held on November 21, 2015, at the Upper Milford Western District Fire Company located on Route 29 & 100 between Shimerville and Hereford. The festivities will begin at 7:00 p.m. We will raffle off meats and turkeys. Lots of food and refreshments will be served, and it is free to all who attended. The next Family Night will be held on Saturday, November 20, 2016. |


Top
Club
Calendar
Club
Caendar
Club
Calendar
Community Fish And Game meets the second Thursday of each month except July and August at 7:30 p.m. on non-stocking nights and 8:00 p.m. on stocking nights. The club will meet on these dates:

September 10, 2015
October 8, 2015
November 12, 2015
December 10, 2015
January 14, 2016
February 11, 2016
March 10, 2016
April 14, 2016
May 12, 2016
June 19, 2016
Family Night will be held on November 17, 2012.
The 2012, fishing contest will be held on May 19, 2013.

At the end of March will be stocking trout at waterman's Pond at 5:30 p.m. The tennetive Trout stocking dates are:

March 24, 2016
March 31, 2016
April 7, 2016
April 14, 2016
April 21, 2016
April 28, 2016
May 5, 2016
May 12, 2016
May 19, 2016
May 26, 2016
I would like to thank the members who stepped up to take on the responsibilities of being officers. Sometimes holding an office can be thankless but watching the children's reactions at the contest and other functions can be a wonderful reward.
| About | Watermans Pond | Fishing Contest | Pheasant Stocking | Family Night | Club Calendar | Top |
You can E-mail comments to Community Fish and Game.